What is Implantology?
There are two main constituents of a natural tooth, i.e., the root and the Crown. The crown is the uppermost part of the tooth and is normally visible. Its shape determines the tooth's function. The root, which makes up about two-thirds of the tooth, is situated below the gumline, embedded in the bone of the jaw.
Implantology is the branch of dentistry dedicated to dental implants. It is concerned with the man-made replacement of missing natural teeth and supporting structure with artificial prosthesis anchored to the jawbone. It is often done with the titanium screw. It allows a person to return to non-removable teeth or a more secure dental restoration. In this process, the adjacent tooth remains intact.
A tooth loss can lead to psychological problems like low self-esteem and social impairment apart from functional problems, thus considerably affecting the quality of one's life.
Like the most dental treatment procedures today, dental implants not only involve scientific discovery, research, and understanding, but also application in clinical practice. The practice of dental implant is as much about art and experience as it is about science as it requires expertise in planning, surgery and tooth restoration.
Reasons for Dental Implant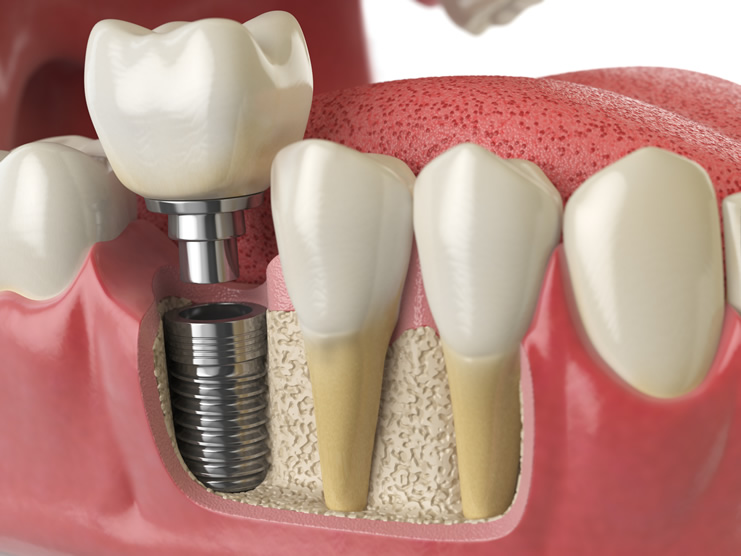 Dental Implants have made a mark in the field of dentistry in the past few years. Therefore, due to its high success rate almost every adult with missing teeth benefits from this procedure. They have multiple advantages, such as:
Restoring dental aesthetics by preserving the hard tissues of the tooth. In this process, layer by layer all possible internal particles is restored and formed naturally.
It restores dental function by helping those with speech problems due to missing teeth. Moreover, it includes those who are experiencing trouble in eating or chewing.
It is more convenient and comfortable as it doesn't cause any unpleasant friction, grinding or movement on the gums, which usually happens in the case of removable prostheses i.e. partial or complete dentures.
The two main parts of an implant – the implant and the artificial crown do not get affected by tooth decay.
Implants give the impression of having natural teeth, both aesthetically and functionally. Therefore, patients regain their natural facial features and confidence that had been affected by the loss of several teeth.
Unlike dentures, Implants offer a better stability to artificial teeth, which eases chewing and digestion. Furthermore, the patients are not compelled to change their diet.
No adhesive (denture glue) is required to hold the implant-supported prosthesis in place, hence making them last for a lifetime.
About Creative Smiles
Situated in Thane, Creative Smiles opts for the combination of best technology with well-trained dentists and compassionate staff, to give you the beautiful smile you have ever dreamt of! We use all kinds of Implant systems such as Nobel Biocare, Branemark Systems and Osstem Implant system.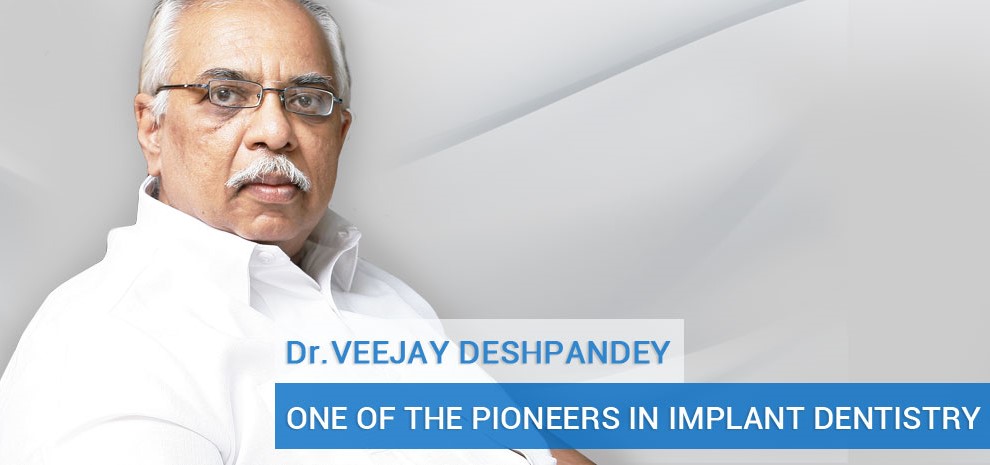 Dr. Veejay Deshpandey, at Creative Smiles, has been one of the first extensively trained doctors to introduce dental implants in India. Trained in Advanced Maxillo-mandibular reconstructive Implantology with a post-doctorate qualification from D.U, Lille2, France, his expertise lies in treating the most complicated cases of all types.