Dr. Veejay Deshpandey is a
Consultant Dental Surgeon & Implantologist
B.D.S. (BOM), D.U.(LILLE II-FRANCE)
FAAID (USA), DICOI (USA), FMII (USA)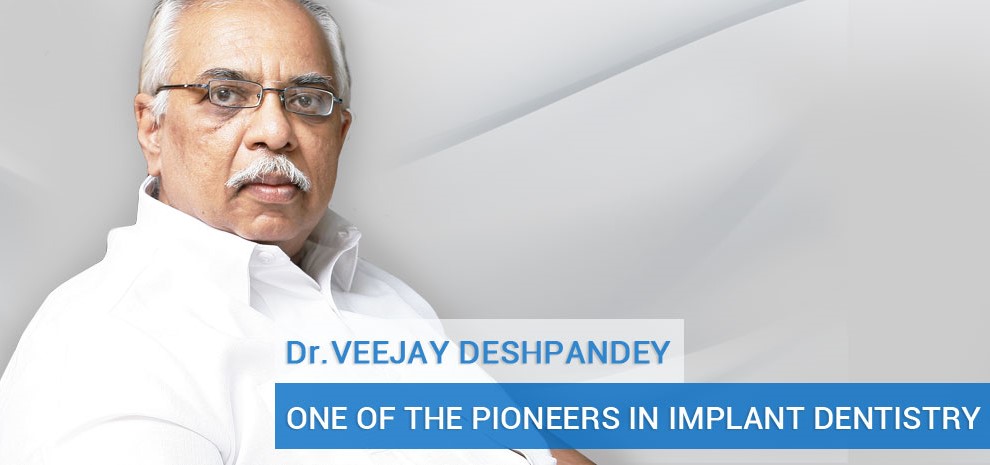 Dr. Veejay Deshpandey is a Consulting Dental Surgeon and Implantologist practicing in Thane/Mumbai, India for last 40 years. He was Consultant Implantologist practising in Muscat for more than 8 years. After completing his Bachelor of Dental Surgery from Mumbai University, he completed his Post Doctorate in Oral Implantology – D.U. (Oral Implantology) from Lille University in France. He has been awarded Fellowship of American Academy of Implant Dentistry in the USA. He is the 1st Dentist practising in India to have this honour.  He was felicitated by the then Governor of Maharashtra Mr. P.C.Alexander for this feat.
He was credited by several reputable postgraduate certificates like

>'Current concepts in American Dentistry' NYU, USA
>'Esthetic Dentistry' Baylor University, Texas, USA
>'Diploma In Aesthetic Dentistry' Coltene, AG, Switzerland
>'Aesthetic Dentistry & Product Training Course', ESPE, Germany
>'Product Training Ivoclar', Vivadent, Liechtenstein


Dr. Deshpandey has also undergone expansive and advanced Implant Training:

>Misch Implant Institute & University of Pittsburgh – USA

>FRIALIT II and IMZ implant systems – Holland & Germany Weiss dental implant systems – USA

>Branemark implant systems training at Branemark

>Center for Osseointegration, Noble Biocare & Hospital – Sweden

>Branemark Implant Systems at Institute of Facial Aesthetics for Washington, USA

>Branemark Implant Systems training at Branemark
Osseointegration Centre – Tokyo – Japan


Dr. Veejay Deshpandey is affiliated to following Institutions:

INDIAN INSTITUTE OF IMPLANT DENTISTRY
AMERICAN ACADEMY OF IMPLANT DENTISTRY – USA
MISCH IMPLANT INSTITUTE – USA
INDIAN DENTAL ASSOCIATION
Creative Smiles dedicates itself to better serve its clients needs and continues to provide the highest level of care for them. Located in Thane, it is one of the leading dental health care centers. Visit us to know more- http://www.creativesmiles.in/