Whether you are a child or an adult, there are chances you might suffer from bruxism. Bruxism is a condition where a person involuntarily grinds his/her teeth which can lead to tooth damage, pain in the jaw or cause severe headaches. Let's cover everything there is to know about Bruxism and how you can get it treated. 
What makes Bruxism such a mysterious condition is that the person is not aware of it. In most cases, the patient grinds or clenches his/her teeth at night while sleeping, although it can happen in the day as well without any realisation. 
Why Does A Person Suffer From Bruxism?
People that suffer from bruxism usually have related sleeping disorders like sleep apnea or snoring. There can be various underlying causes for bruxism like:
Stress & Anxiety: Although there is not enough research to pinpoint the actual cause of bruxism, patients experiencing stress and anxiety have been found to suffer from this condition.
Dental Malocclusion: Maligned teeth can also be a probable cause for bruxism. 
Smoking: It has been found that smokers are more likely to suffer from this condition. 
High consumption of Alcoholic or Caffeinated Drinks.
How Do I Tell Whether I Suffer From Bruxism?
Even though the patient does not realise that he/she is suffering from bruxism, there are a few symptoms that you can keep a lookout for:
Muscle pain around the jaw, this can cause stiffness and cause a problem when you try to open your mouth wide. 
Experiencing earaches or tinnitus (ringing in the ears).
Getting constant headaches.
Pain around the neck, cheeks or shoulders.
Disruptions in sleep or getting the feeling of being tired even after you have slept for ample time. 
Cracked or Fractured teeth.
Bleeding in gums, especially at night.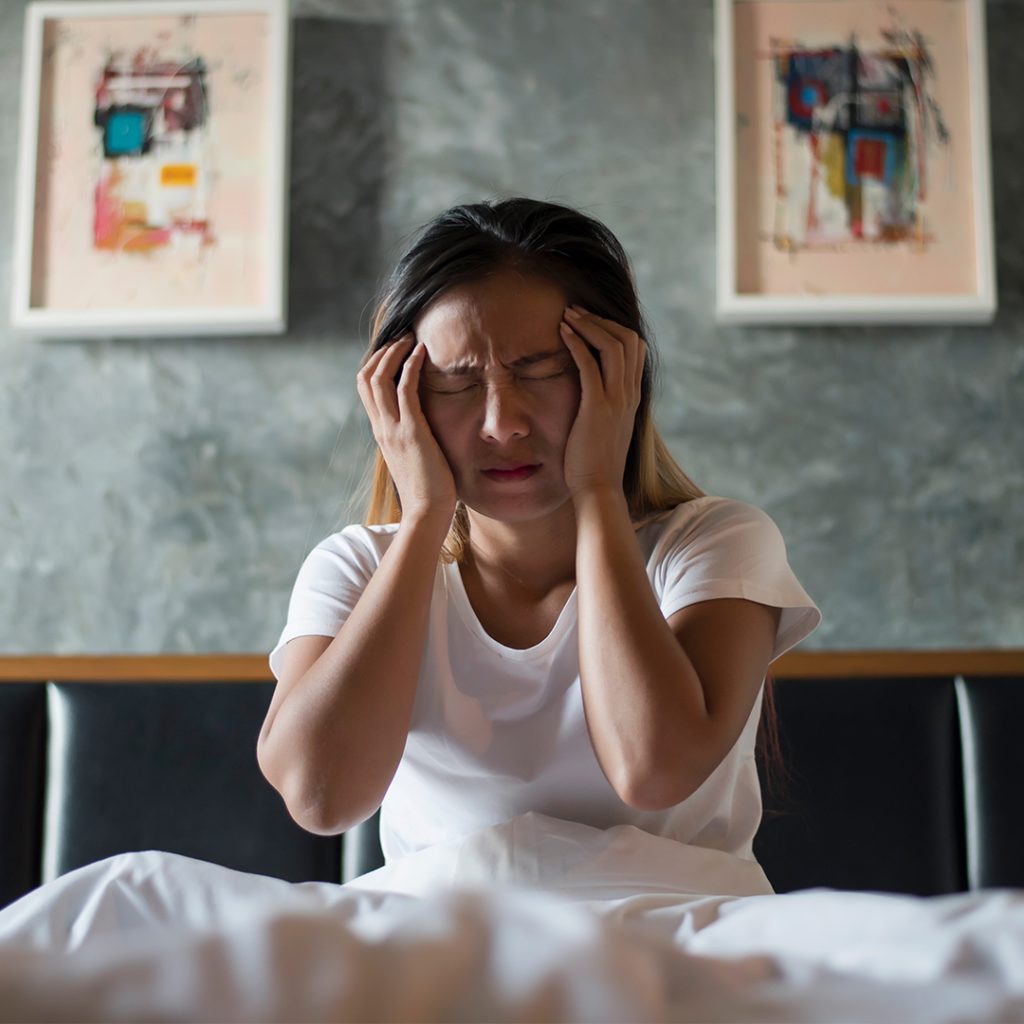 Repercussions of Bruxism
Bruxism can have severe effects on not only a patient's teeth but also other parts of the body. 
On The Teeth: If you have been grinding your teeth for a long period of time, it can wear your tooth enamel or even chip it. This exposes the next, softer layer of the teeth i.e. dentin. This makes you more vulnerable to bacteria and can cause serious damage to the point where you might need dental restorations. 
On The Jaw: The constant pressure put on the jaw bone due to teeth grinding can cause stiffness in the jaw. It can also start making alarming clicking sounds while speaking or eating. This makes your jaw bone weak and painful.
Treatment For Bruxism
The first thing to do after you get to know that you are suffering from bruxism is booking a dental appointment. This is important so your dentist can conduct a thorough checkup to get to the root of the problem. Mouthguards help you in protecting your teeth at night. Since the mouthguard becomes a barrier between your upper and lower jaw, it gives your teeth and jaw some relief from the pressure. 
Other treatments for bruxism include: 
Desensitising varnish: Applied by a dentist to protect teeth from sensitivities caused by erosion of enamel. 
Orthodontic treatment: If a malocclusion is responsible for or caused by grinding, the patient may be able to wear braces to rectify the bite. 
We have an experienced team of professionals at the multi-speciality Dental Health Care Center – Creative Smiles with Dr. Veejay Deshpandey, Dental Surgeon and Implantologist and an innovator in the field of Implant Dentistry heading the team. At Creative Smiles, we offer the most advanced dental services at very affordable prices. 
Creative Smiles, in Thane, Mumbai can bring the sparkle back to your smile and help you attain a smile you'll be proud to show off. To learn more, contact us to schedule your no-obligation consultation today!